Starting in July this year, the Arts Council will offer Friday and Saturday art workshops taught by well known instructors such as Coni Grant, Kim Mackey, Cherine Marie Kuster, and Kathy W. Hill.

Coni Grant
Crash Course in ACRYLICS – Friday, July 21
One Day workshop: 10am to 3pm. 1/2 hour lunch break. $70 fee plus $20 for all materials. Just bring yourself.
Have fun with ACRYLICS and learn simple techniques that can revolutionize your work. Acrylics are popular, water based and dry quickly – but few artists take advantage of their amazing versatility and potential. This class is for painters who want to learn more about the unexpected advantages of Acrylics. Students will work through 2 projects that teach techniques that can be applied to their own work. Beginners will learn skills to take them forward; Advanced painters will learn techniques that will push their work in new directions.
Kim Mackey
The July 29th Workshop is Cancelled. Now accepting registrations for the Saturday, September 2, workshop, Painting in the Studio – 9:30 – 4:00 with 1 hour lunch break. Kim Mackey, instructor. $75 per student. Materials list available. The Art of Painting – Oil / Acrylic
"Develop your imagination and technique, focused on the academic principles of color, design, value and draftsmanship. Working from still life and photo reference. Receive individual instruction as you really learn to "see" what you paint. There will be demonstration and class critique. Students will be exposed to painters such as Lougheed, Jacob, Payne and Dixon. Students will be comfortable in the well-appointed modern studio." Kim Mackey
Kim Mackey is considered by critics to be one of the best western artists working today. The Denver Post has called him, "A master of this genre". Educated at the Colorado Institute of Art, his early career as an illustrator paved the way to his present stature as an eagerly sought after painter. Kim's work is included in many important public collections as well as private collections throughout the country.
Cherine Marie-Kuster
Saturday, August 26 – A Creative Booster – 9:30 – 4:30 with 1 hour lunch break. Cherine Marie Kuster, instructor. $75. Includes all materials.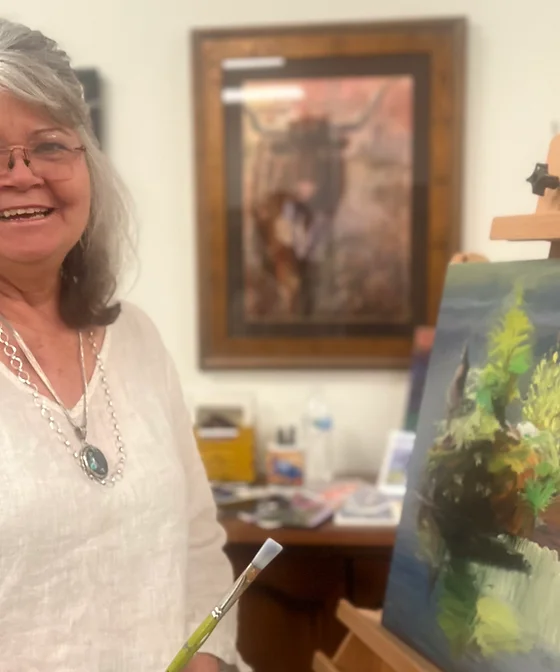 Colorado native, Cherine Marie-Kuster, creates her free flowing color and imaginative, sometimes humorous, works depicting people and animals in a variety of mediums. Her teaching method will result in an exciting and liberating experience for both seasoned artists and new students.
 "A Creative Booster"  will be for people with not enough time on their plate." This will be a time to' let go, don't be serious.'
We will play with watercolor & the instructor will provide the supplies for total of $75! Students keep the papers provided & little w/c holders.  
Kathy Hill
September 23 – Beginning Watercolor Painting – 9:30 – 4:30 with 1 hr lunch break. Kathy Hill, instructor. $75 per student. $35 optional materials fee. Materials list available.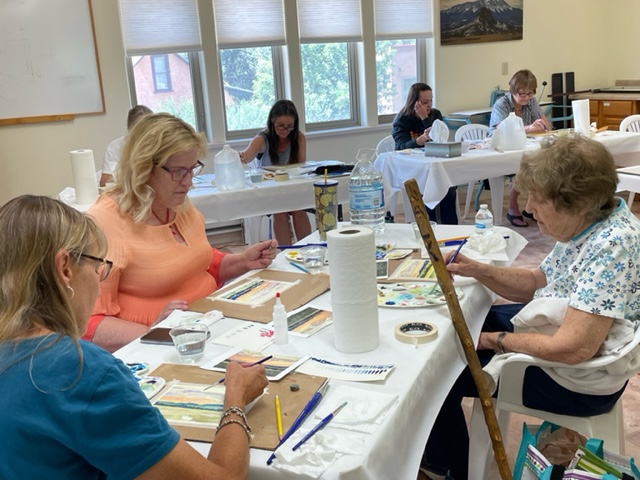 "Color and light are always significant in my paintings. I am fortunate to live in one of the most beautiful, best kept secrets in Colorado. No matter whether my painting is of the magnificent Spanish Peaks, or of a lowly rock in the snow, my hope is to connect with others who share my love of the natural world."
"As we experience the world around us, we often hold onto fleeting moments we remember more as feelings than how things really looked. In my work, I strive to capture these moments, enhancing the feelings with expressive colors, yet retaining the reality of the scene."
Choose any one or all of these workshops and download a registration form (You must submit one form for each workshop that you wish to attend). Fill them out and mail (SPACe, PO Box 803, La Veta, CO 81055) or bring them to SPACe Gallery (132 W. Ryus, La Veta) along with the workshop fee.
*Workshop schedule date subject to change or cancellation. You will be notified by email or phone.