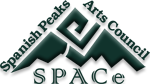 The Spanish Peaks Arts Council (SPACe)
also known as the Gallery in the Park and the SPACe Gallery, is located at:
132 W. Ryus, La Veta, Colorado.
Phone  719 742-3074.
Mailing address: SPACe, P.O. Box 803, La Veta, CO 81055
SPACe is a nonprofit community based and member owned organization dedicated to support of the arts and art education. Resources which support SPACe include community volunteers, membership dues, donations, booth fees from the annual Art in the Park festival and a percent of sales of artwork in the Galleries and Gallery Gift Shop.
• To join by mail, print a membership form to include with your check. Mail the form to
SPACe, PO Box 803, La Veta, CO 81055.
• To join and pay online by credit card, click the button that corresponds to your desired level of membership.  If you are a new member, please email SPACe – [email protected]  with the contact information requested on the membership form. Your information is only for SPACe notifications and will not be shared with anyone else.
---
Join SPACe – as an Individual – $35.00

---
Join SPACe – as a Family – $45.00

---
Join SPACe – as a Business – $75.00

---
Join SPACe – as a Sponsor – $100.00

---
Join SPACe – as a Patron – $250.00

---
Join SPACe – as an Angel – $500.00

---
Join SPACe – as a Non-Profit Organization – $10.00

---
Be sure to visit other nonprofits in La Veta. The Francisco Fort Museum, the Francisco Center for the Performing Arts, and the La Veta School of the Arts